In a design, similarity can be utilized to connect items that aren't necessarily near to one another.
Even though there is no order to the circles' location, and they are all the same size and spacing, we automatically group them by color.
Utilizing similarity in UI/UX design helps visitors understand which products are related. The similarity principle, for instance, would enable quick scanning of a feature list with recurring design components (such as an icon accompanied by three to four lines of text).
Changing the design elements, however, makes the things you want to draw attention to stand out and conveys a greater sense of importance to visitors.
Of course, if you want anything to stand out from the crowd, you can make it different. In order to stand out and bring visitors' attention to the intended action, designers often use buttons for calls to action in a color different from the rest of a website.
The Law of Proximity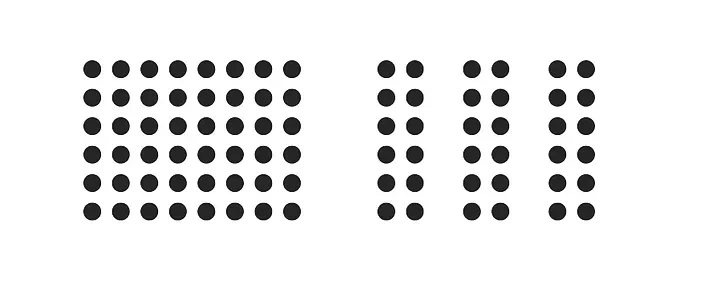 According to the principle of proximity, objects that are close to one another seem to be more related than those that are farther apart.
Because proximity is so potent, it triumphs over similarities in color, form, and other characteristics that may serve to distinguish a group of objects.
The proximity of the lines in the above image is the only thing separating the group on the left from the group on the right. And yet, the image on the right appears to your brain as three separate groupings.
The proximity in UX design encourages users to group related items together without the use of barriers like hard borders.
Like objects should be placed near together, with space between each group, so that the spectator can immediately recognize the organization and structure you intend. Each image's proximity to the accompanying text indicates that the two are connected. The photographs, headlines, descriptions, and other information for each of Vice's stories are differentiated using this technique.